Prescription Drug Drop Off Box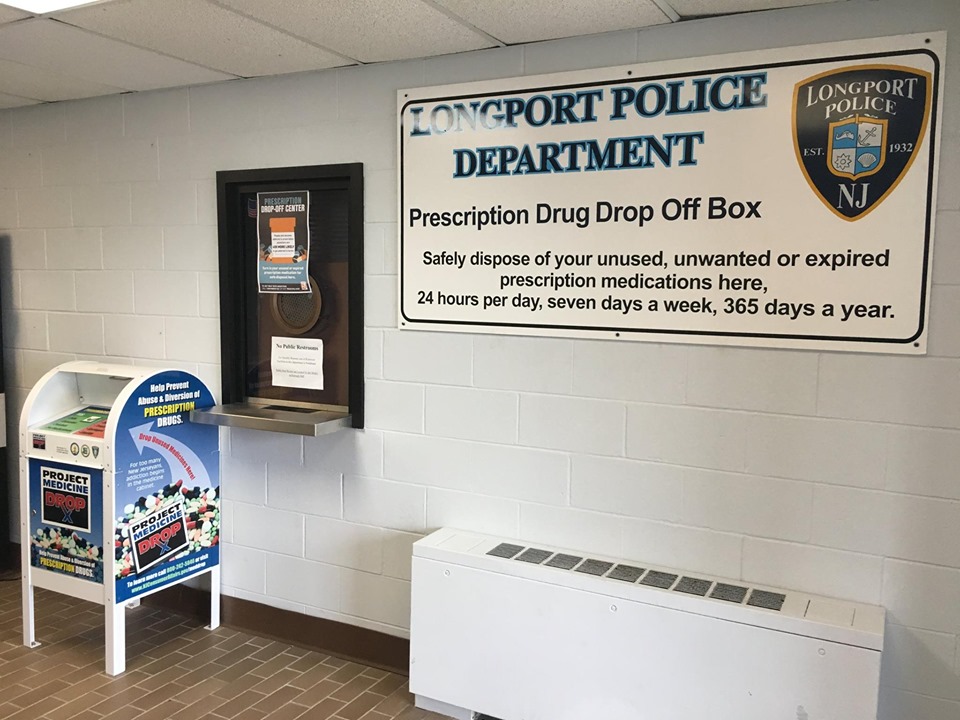 The Longport Police Department would like to remind the community that they are invited to visit our Project Medicine Drop site located in the lobby of the Longport Police Department and drop off any unused prescription medications anonymously and with no questions asked. Most Project Medicine Drop sites make this service available 24 hours a day, seven days a week, 365 days a year.
Project Medicine Drop is an important component of the New Jersey Attorney General's effort to stop the diversion and abuse of prescription drugs, including highly addictive opiate painkillers. Unused medications that remain in your medicine cabinet are susceptible to theft and misuse. To prevent these medications from getting into the wrong hands, the Longport Police Department urges you to properly dispose of your expired and unwanted prescription medicine.
Research by the Partnership for Drug-Free Kids has revealed that teens are abusing pain relievers like OxyContin and tranquilizers such as Xanax to cope with academic, social or emotional stressors. Reducing access to these prescription pills will minimize the risk of abuse and addiction.
Through this initiative, the State Division of Consumer Affairs installs secure "prescription drug drop boxes" at police departments, sheriff's offices, and State Police barracks across New Jersey, allowing citizens to safely dispose of their unused, excess, or expired prescription medications.
By giving New Jerseyans a safe and secure method to dispose of unneeded medications, Project Medicine Drop helps prevent the abuse of these drugs. This initiative also protects New Jersey's environment by keeping these drugs out of landfills and out of the water supply. More information about Project Medicine drop, including the full list of Project Medicine Drop locations, can be found at: www.NJConsumerAffairs.gov/meddrop .
To date, the Longport Police Department has disposed of approximately 400 lbs of unused medications and welcomes the community to continue utilizing medicine drop locations for proper disposal. For safety reasons, the Project Medicine Drop boxes can only accept solid medications such as pills, patches, inhalers, and similar objects. The boxes cannot accept liquids, medical waste, or syringes. Consumers wishing to dispose of these objects should speak with their doctors or pharmacists to find the safest and best ways to dispose of them. It should also be noted that consumers may only dispose of legal prescription or over-the-counter medications. Anyone wishing to dispose of any illicit drug, should follow the normal procedure of reporting it to the police.